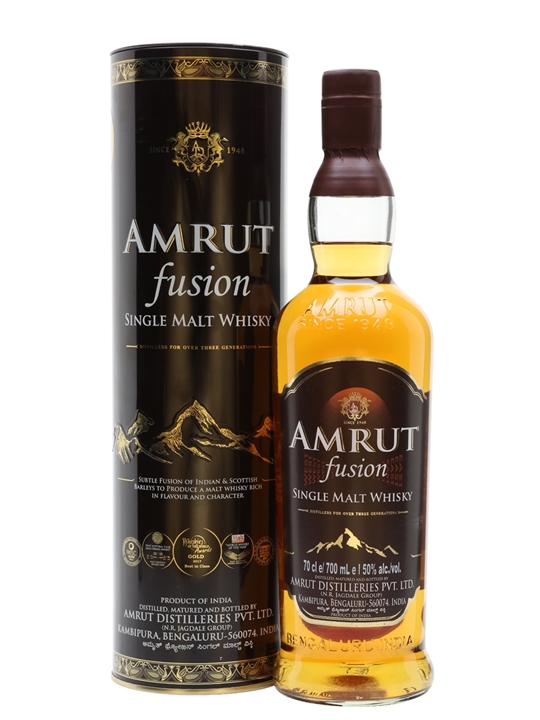 OUR BEST PRICE
from Master of Malt
£49.95 -
Get Bottle
4.1 out of 5 (117 reviews)
Amrut Fusion is perhaps the most instantly recognisable of India's global offering, as well as the leading cause of heart attacks at blind tastings in Scotland. While it's fallen out of favour compared to some of the more recent cask strength and unusualy whiskies produced by the distillery Amrut is, like the neighbouring Himalayas, well worth exploring. The nose is solid oak, spice, honey and vanilla. In the mouth you'll discover an explosion of flavors, sherry accents coexisting with hints of chocolate, pepper and caramel. Amrut Fusion is peated so expect a decent although surprisingly well integrated note of smoke throughout.
| Network | Price | Get Deal |
| --- | --- | --- |
| Amazon | £49.96 | |
| Master of Malt | £49.95 | |
| The Whisky Exchange | £53.95 | |
Amrut Fusion was launched in the year of 2009. It is prepared using 25% peated Scottish barley and 75% unpeated Indian barley. The two separately mature malts are then merged in measured amounts, for three months in bourbon barrels. The result is a superior and exceptional whiskey. The history of Amrut Distilleries is as old as the history of independent India itself. Like now India is one of the world's leading economies, is also the Amrut Distilleries an industry leader. In 1948, when the country took his seat as an independent nation, the Indians began after the end of British colonial rule, to burn their own whiskey. Today's success was made possible by the resolve of successive generations of Jagdale family. Amrut Fusion Indian is a single malt whisky from the Amrut whisky distillery. Rated an average of 4.1 out of 5 by 117 reviewers and available from Master of Malt for only £49.95, falling slightly short of liquid gold but this in a solid everyday single malt whisky.
Interested in getting the best value Whisky deals in your box every week, sign up to our newsletter