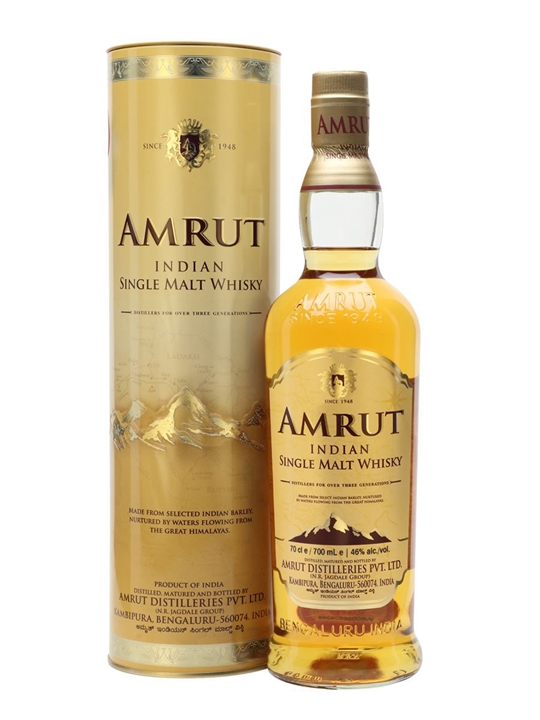 OUR BEST PRICE
from Amazon
£41.99 -
Get Bottle
4.1 out of 5 (33 reviews)
This ex-bourbon barrel matured single malt is made from malted barley grown at the foot of the Himalayas in the northwestern Indian Punjad provinces. While the Amrut Fusion was the whisky that awoke the west to quality coming out of India, Amrut Indian single malt is the one that stole our heart. Aromatic spice and ripe fruit are present in abundance, look for intense barley and cereal notes bolstered by almonds, cashew and aprocot, there's a spicy rum note and fresh home grown chilli. The finish is pure fruit however, apples apricots and red berries. Delicious and almost unreasonably affordable. Matured in a combination of new American Oak and ex-bourbon casks before bottling at 46%, it has the strength and the depth of flavour to properly showcase both the distillery and the quality of Indian single malt whisky.
| Network | Price | Get Deal |
| --- | --- | --- |
| Amazon | £41.99 | |
| Master of Malt | £42.95 | |
| The Whisky Exchange | £44.95 | |
| The Drink Shop | £43.80 | |
The Amrut Single Malt has managed to produce a truly outstanding whiskey. An Indian whiskey that surprised and convinced even experts. This wonderfully mild yet complex single malt is a real surprise. The Amrut Indian Single Malt is made in Bangalore, the land of the Himalayas. In the meantime, It was able to convince in many tastings. And that although the amrut is a very young whiskey. At about 4 years old It achieves an astonishing richness in taste. 91.5 / 100 pts. Jim Murray's Whiskey Bible 2010 Given the fact that good whiskey usually comes from Scotland or the United States, surprised it matter that India can produce good whiskey. It was Shri J. N. Radhakrishna, who founded his distillery in 1948th It imported barley for whiskey from Scotland, a second part of the crop comes from India. The maturation of Amrut done in selected oak barrels in which formerly Bourbon outsourced. Even when pouring one perceives the whole flavor composition. Notes of toffee, dry grass, fruits and licorice and earthy nuances and subtle sweetness penetrate deep into the nose. On the palate the Amrut with notes of oak, barley, cinnamon and a hint of vanilla presented. In the long persistence It surprises with earthy aromas, combined with a silky touch of cream and toffee. This whiskey you should definitely enjoy pure, optionally with some ice. Amrut Indian is a single malt whisky from the Amrut whisky distillery. Rated an average of 4.1 out of 5 by 33 reviewers and available from Amazon for only £41.99, falling slightly short of liquid gold but this in a solid everyday single malt whisky.
Interested in getting the best value Whisky deals in your box every week, sign up to our newsletter