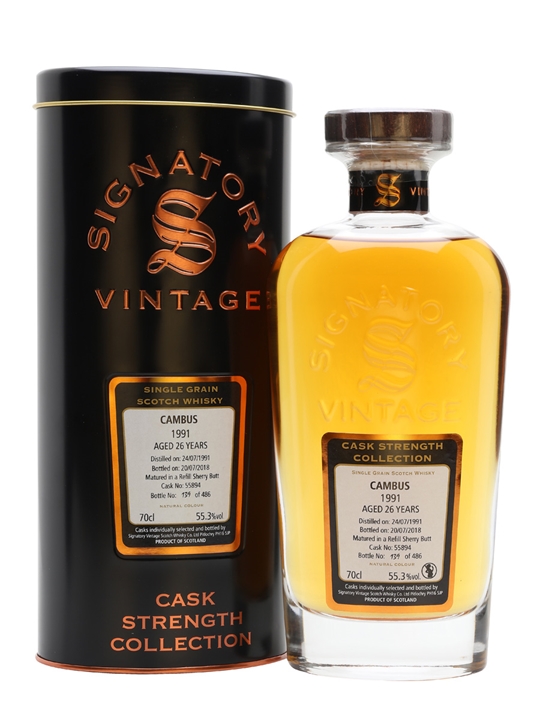 OUR BEST PRICE
from The Whisky Exchange
£121 -
Get Bottle
0 out of 5 (0 reviews)
Cambus is the second grain distillery in this mix and arguably the best of those to close their doors. The site is now the home of Diagio's cooperage (where they recharr and rebuild barrels from Europe and America). The distillery is equally famous for it's creamy sweetness, rosewater nose and wood spice. On the nose this one is butterscotch, strawberry and vanilla, a second wave of pepper and red chili reveals itself. On the palate we've got oodles of toffee, vanilla custard, nougat, green apples and Muscovado sugar. The finish is long and tantilising, spicy, and full of gentle oak, and where the Sherry but really comes to shine. Marvelous stuff that's only going up in price.
| Network | Price | Get Deal |
| --- | --- | --- |
| The Whisky Exchange | £121.00 | |
Cambus 1991 26 Year Old Signatory Single Grain Scotch Whisky is a 55 year old single malt whisky from the Cambus whisky distillery. The best price currently available is from The Whisky Exchange for only £121.0 we don't have any review data for this single malt whisky yet, let us know what you think in the comments below.
Interested in getting the best value Whisky deals in your box every week, sign up to our newsletter