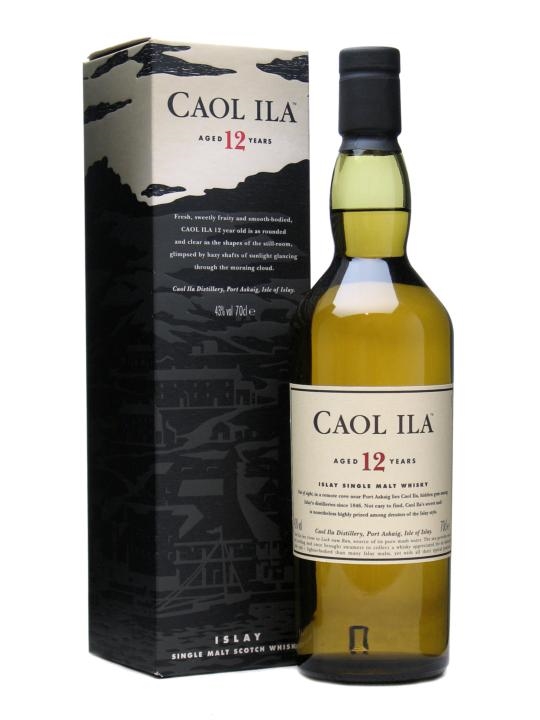 OUR BEST PRICE
from Amazon
£38 -
Get Bottle
4.4 out of 5 (264 reviews)
Caol Ila is perhaps the most overlooked of the Islay single malts in part due to its role as one of Diagio's workhorse distileries. In recent years Caol Ila has been slowly building up a fanbase and more of it's output is being released as single malts. The 12 year old is the distillery's entry level bottling, launched back in 2002. This expression is a medium weight with fresh sweet fruits and a refined oiliness all boalstered by that distinctive Caol Ila smokeiness. Despite sharing the same with a phenol level of 35 ppm (parts per million) as Lagavulin the Caol Ila 12 is noticably less smokey and so less likely to overpower. That said if you know you're already a peat fan you'll certainly find something to savour here.
| Network | Price | Get Deal |
| --- | --- | --- |
| Amazon | £38.0 | |
| Master of Malt | £43.95 | |
| The Whisky Exchange | £43.95 | |
On the Scottish island of Islay, near the Bay of Port Askaigs, the distillery Caol Ila is. Caol Ila is "Cull Eela activities" and is also the Gaelic name for the strait that separates the island of Islay off the island of Jura. was founded the distillery in 1846 and therefore the whiskey distillery is traditionally placed on the waterway to the markets for over a century. Due to the exceptionally clean water, the strait was originally referred to as Loch Nam Ban, and still serves as the main water source of the distillery. Twelve-year-old single malt Scotch whiskey Caol Ila unfolded over time its maturation across a diverse fruity-sweet flavor with a subtle touch of citrus and a slight smokiness. Its mild character is ideally balanced and was awarded the Silver Medal of the International Wine & Spirits Competition, 2015. 2014 It even won the gold medal at the International Spirits Challenge. Pleasant peaty and finished with light olive notes, you can enjoy the 12 year old Caol Ila either neat, on ice or provided with a sip of water. Caol Ila 12 Year Old is a 12 year old single malt whisky from the Caol Ila whisky distillery (located in the Islay region). Rated an average of 4.4 out of 5 by 264 reviewers and available from Amazon for only £38.0, falling slightly short of liquid gold but this in a solid everyday single malt whisky.
Interested in getting the best value Whisky deals in your box every week, sign up to our newsletter