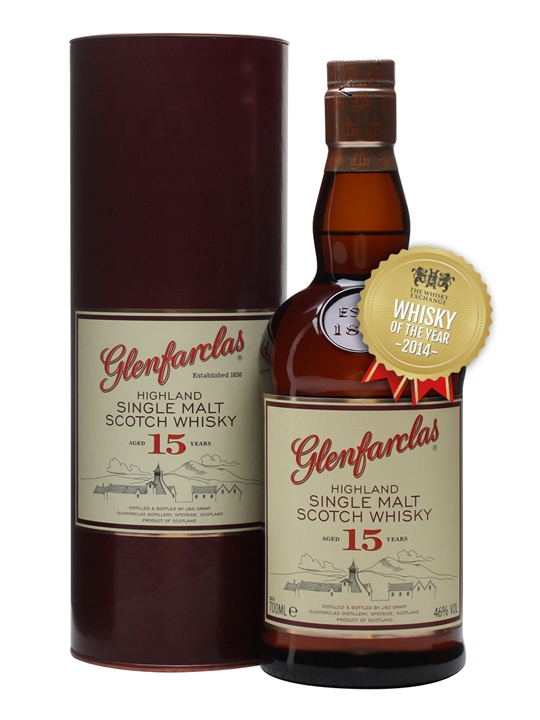 OUR BEST PRICE
from Amazon
£49.99 -
Get Bottle
4.2 out of 5 (161 reviews)
While it's easy to think given their ubiquity now that bourbon casks were always the rule for Scotch single malt you'd be wrong. Back before 1986 Sherry was shipped to the UK in barrels which were then sold on to whisky distilleries for maturation. Bourbon barrels only became the rule after 1986 when new legislation required that all Sherry be bottled in the Jerez region. Thus Glenfarclas 15 is a great example of a traditional Scotch whisky in that it's sherry matured rather than bourbon matured, the result is a very flavourful and enjoyable whisky that drips red fruits, candied nuts, campfire marshmallows, green grapes, cloves, and spicy wood accents. This is one of if not the best example of a sherried whisky on a reasonable budget.
| Network | Price | Get Deal |
| --- | --- | --- |
| Amazon | £49.99 | |
| Master of Malt | £51.9 | |
| The Whisky Exchange | £54.25 | |
The Glenfarclas 15 Years is an outstanding Scottish single malt whiskey. It particularly shines through the excellent combination of sherry and barley. 95/100 pts. Jim Murray's Whiskey Bible 2010 Glenfarclas is one of the largest distilleries in Scotland. Robert Hay founded the distillery in 1836 and since 1844 quality whiskeys are produced there. At this point, Hay also received the official license to be allowed to burn whiskeys. 1865, the distillery changed hands and went into the hands of John Grant. To date, it is owned by the Grant family. All whiskey from Glenfarclas mature exclusively been used sherry casks. The Glenfarclas 15 years Speyside Malt Scotch Whiskey had 15 years for his maturation. Thus, this is an excellent whiskey that can go into raptures even connoisseurs. Glenfarclas 15 Year Old is a 15 year old single malt whisky from the Glenfarclas whisky distillery (located in the Speyside region). Rated an average of 4.2 out of 5 by 161 reviewers and available from Amazon for only £49.99, falling slightly short of liquid gold but this in a solid everyday single malt whisky.
Interested in getting the best value Whisky deals in your box every week, sign up to our newsletter