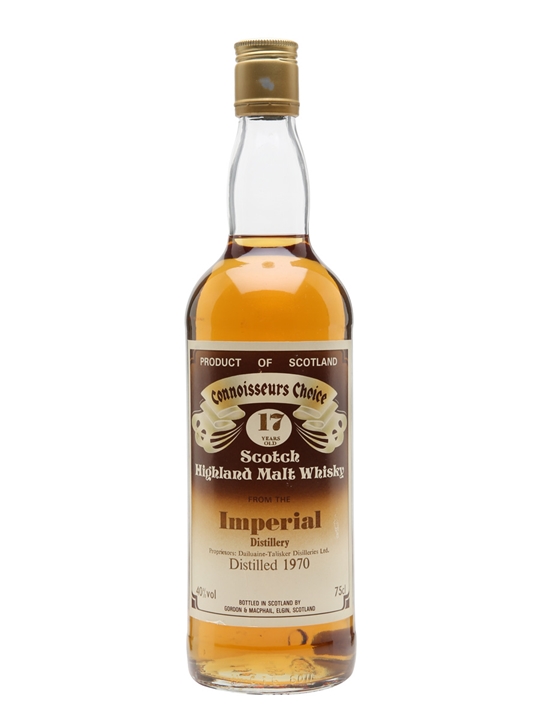 OUR BEST PRICE
from The Whisky Exchange
£450 -
Get Bottle
0 out of 5 (0 reviews)
Imperial distillery was a victim of far to many whisky crashes and spent only a fraction of its life completely operational, when it did produce, as was all to often the story, the bulk of its output went into blends. Only one official bottling was ever released. The distillery was demolished in 2013 to make way for the new Dalmunach distillery. Always a popular offering at auction and whisky fairs the Imperial distillery acquired its fanbase far to late to save the distillery but now these editions are snapped up at absurd prices. This one was distilled during one of the more stable periods of this unfortunate stop/start distillery. Bottled at only 40% this one is particularly smooth and mellow even by the distilleries standard. We had a chance to try this beauty at the Limburg show last year, and in a blind tasting you could have told us it was a grain whisky it was so light. You'll get vanilla, toffee and caramel, sweet sherbert lemon, powder doughnuts and lemon rind but let it stand for at least 10 minutes and you'll get waves of papaya bursting through the ripe pear and malty cereal. Rich, sweet and fruity on the palate. Liquorice. Pinches of pepper on the tropical fruit finish.
| Network | Price | Get Deal |
| --- | --- | --- |
| The Whisky Exchange | £450.00 | |
Imperial 1970 17 Year Old Connoisseurs Choice is a 19 year old single malt whisky from the Imperial whisky distillery (located in the Speyside region). The best price currently available is from The Whisky Exchange for only £450.0 we don't have any review data for this single malt whisky yet, let us know what you think in the comments below.
Interested in getting the best value Whisky deals in your box every week, sign up to our newsletter