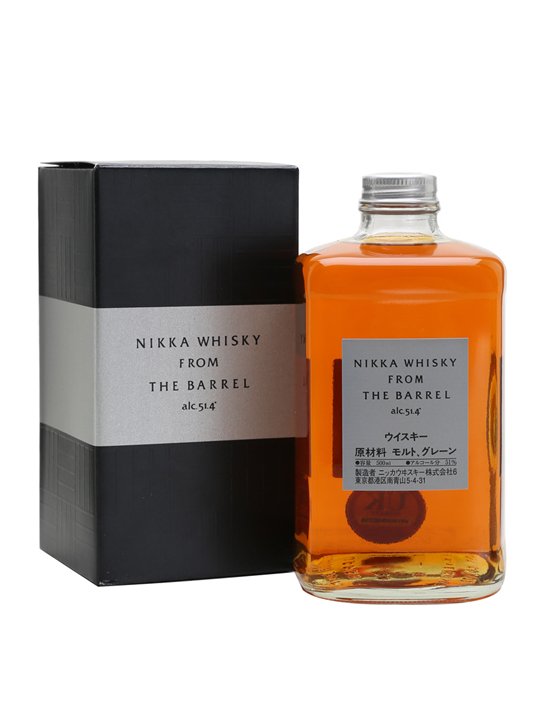 OUR BEST PRICE
from Master of Malt
£37.95 -
Get Bottle
4.4 out of 5 (184 reviews)
When you want to learn about Japanese whiskey and you want to discover its subtleties, it's a safe bet that fans of whiskeys around us recommend the Nikka from The Barrel: "You'll see, it's easy to to drink despite its 51.4% vol and moreover it is an excellent quality / price ratio. " It must be said that its taste is very representative of the Japanese style but it is also the most sold Japanese whiskey in the world!
| Network | Price | Get Deal |
| --- | --- | --- |
| Master of Malt | £37.95 | |
| The Whisky Exchange | £38.95 | |
The Nikka Whiskey from the barrels can not be sufficiently recommended. If only his appearance stands out from the other whiskeys, so It comes in a distinctive 0.5l square bottle. Mature malt whiskey and grain whiskey are mixed and then re-casked. Nikka from the barrel has at cask strength over an alcohol content of 51.4% vol., And has a distinctive personality, due to its rich flavors and deep flavor. It need not fear comparison with the Scottish blends. From the land of the rising sun a whiskey as one would never expect him to Japan comes. While the UK and especially Scotland regarded as the home of whiskey, here comes from Japan a very good blend of Nikka From The Barrel. It comes from the distillery Nikka; the second largest in Japan. The distillation takes place in Coffrey-Still process and then this whiskey can mature until it is bottled. This time It spends in bourbon casks and barrels of sherry, which gives it a special touch. In 2007 and 2010, the Nikka From The Barrel received high honors in the class "Blend Blended Whiskey Japanese", and has been even more popular. This whiskey is considered extremely powerful and already in the glass has a beautiful, slightly reddish brown color. The aroma is supported by fruity and spicy notes, which are complemented with floral nuances. Peat and wood are added and give the drink a classic touch. Also oak and spices you and the sweetness of honey tastes before vanilla is noticeable in the finish and lasts long. On the Rocks or pure, It is a real treat, even if one does not enjoy in Asia but in Europe. More information about the product. Nikka From the Barrel is a blended whisky. Rated an average of 4.4 out of 5 by 184 reviewers and available from Master of Malt for only £37.95, falling slightly short of liquid gold but this in a solid everyday blended whisky.
Interested in getting the best value Whisky deals in your box every week, sign up to our newsletter