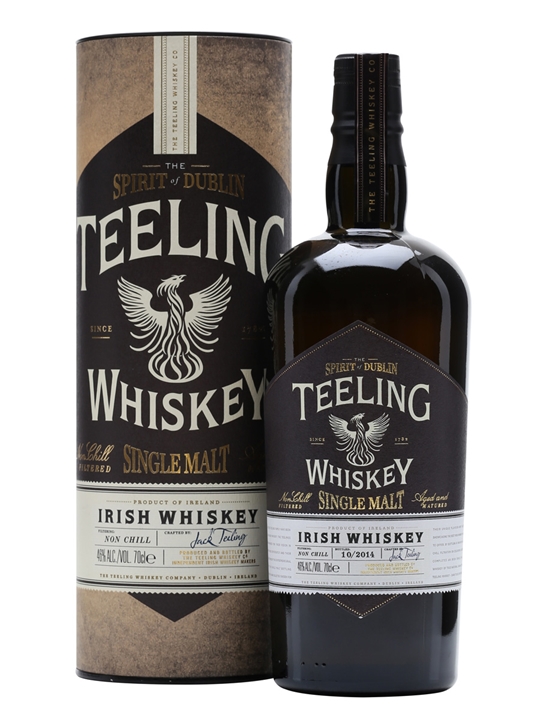 OUR BEST PRICE
from Amazon
£37.99 -
Get Bottle
4.5 out of 5 (46 reviews)
Teeling is the brainchild of the John Teeling who bought Ceimici Teo in 1987 and turned it into the famous Cooley distillery. In 2011, Beam Inc purchased Cooley, and in 2012, the Teeling family founded the Teeling Whiskey Company, founded a distillery in Dublin and began building their brand using incredible stocks from their old Cooley distillery. The Teeling Single Malt is their flagship and it's an excellent vatting of 5 different wine cask (Sherry, Port, Madeira, White Burgundy, Cabernet Sauvignon) finished Irish Malt whiskies. The nose is young and dominated by a apples, peaches and pears, as well as aromas of grass, green tea and cherries, the palate is lemon, vanilla, cloves, citrus, and dried fruits. The finish reveals a long sweet note with deep oak taste. A spectacular example of Irish whisky from one of the most exciting distilleries and a family that dates back to 1782, when Walter Teeling set up a distillery in Dublin's liberty zone.
| Network | Price | Get Deal |
| --- | --- | --- |
| Amazon | £37.99 | |
| Master of Malt | £49.95 | |
| The Whisky Exchange | £49.95 | |
Since 1782, the family Teeling Whiskey business operates. Matured by five different wines and strong wine barrel types. In taste, beautiful notes of citrus, dried fruit, pepper, vanilla and cloves show. Overall, this particular single malt is balanced and highly recommended. Teeling Single Malt Whiskey Single Malt Irish Whiskey is a single malt whisky from the Teeling whisky distillery. Rated an average of 4.5 out of 5 by 46 reviewers and available from Amazon for only £37.99, falling slightly short of liquid gold but this in a solid everyday single malt whisky.
Interested in getting the best value Whisky deals in your box every week, sign up to our newsletter