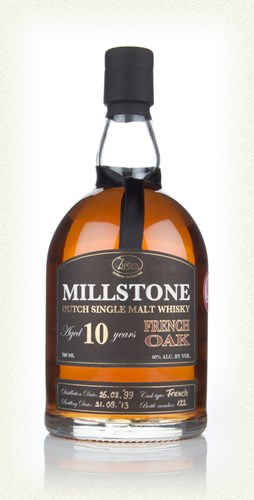 OUR BEST PRICE
from The Drink Super Market
£44.99 -
Get Bottle
0 out of 5 (0 reviews)
The Zuidam Distillery, founded in 1974 by Fred and Helene van Zuidam and currently run by their sons Patrick and Gilbert is located in Baarle-Nassau on the Dutch-Belgian border. Notably it's the only Distillery in The Netherlands that ferments, distills, ages and bottles all on its own premises. In addition to Single Malt Whiskies, Zuidam also produces Rye Whisky, Gin, Rum, Genever and Liqueurs. The name Millstone derives from the Windmills that are used by Zuidam to mill their Malted Barley. On the nose it's a fairly classic sweet vanilla you would expect from ex-bourbon casks, then bam, Madeira cake, marzipanand a touch of sea spray perhaps. It's a fairly thin dram, with low viscosity but oodles of chewy wood notes. A gentle sweetness, with nutmeg, stewed apples, and an incredibly faint waft of what might be a waft of peat. The finish is a fraction bitter, this might not be the best Millstone on the market, that honour goes to their rye, but it's a stunning dram from a distillery that's fairly new to the whisky game.
| Network | Price | Get Deal |
| --- | --- | --- |
| Master of Malt | £69.8 | |
| Drink Super Market | £44.99 | |
Zuidam Millstone 2004 10 Year Old French Oak Dutch Whisky is a 70 year old single malt whisky. The best price currently available is from The Drink Super Market for only £44.99 we don't have any review data for this single malt whisky yet, let us know what you think in the comments below.
Interested in getting the best value Whisky deals in your box every week, sign up to our newsletter