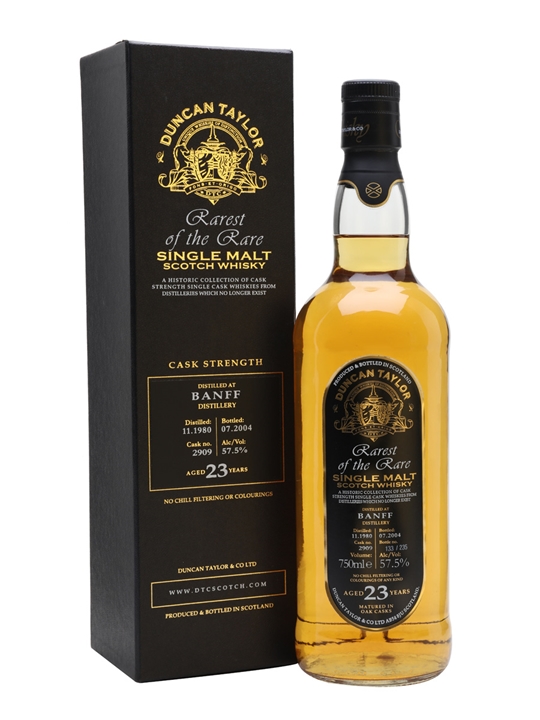 OUR BEST PRICE
from The Whisky Exchange
£550 -
Get Bottle
0 out of 5 (0 reviews)
A 1980 vintage whisky from the closed and since demolished Banff whisky distillery, bottled at 23years old by independant bottlers Duncan Taylor. Historically one of the more overlooked gems of the lost distilleries range, Banff due to its use for blending didn't really get the chance to adopt a following until the rare malts range. Sadly these are all now like gold dust but the Duncan Taylor edition survives, for now. Fruity, smoky tropical mango and pineapple, augmented by tender, classic peat notes, the oak rounds this one off nicely here. Sweet, spicy, and wonderfully full, beautiful smoke, Toffifee, hazelnuts and crumbly biscuit fade away leaving a lingering taste of strawberry jam and very lightly toasted almonds.
| Network | Price | Get Deal |
| --- | --- | --- |
| The Whisky Exchange | £550.00 | |
Banff 1980 23 Year Old Duncan Taylor is a 23 year old single malt whisky from the Banff whisky distillery (located in the Highland region). The best price currently available is from The Whisky Exchange for only £550.0 we don't have any review data for this single malt whisky yet, let us know what you think in the comments below.
Interested in getting the best value Whisky deals in your box every week, sign up to our newsletter