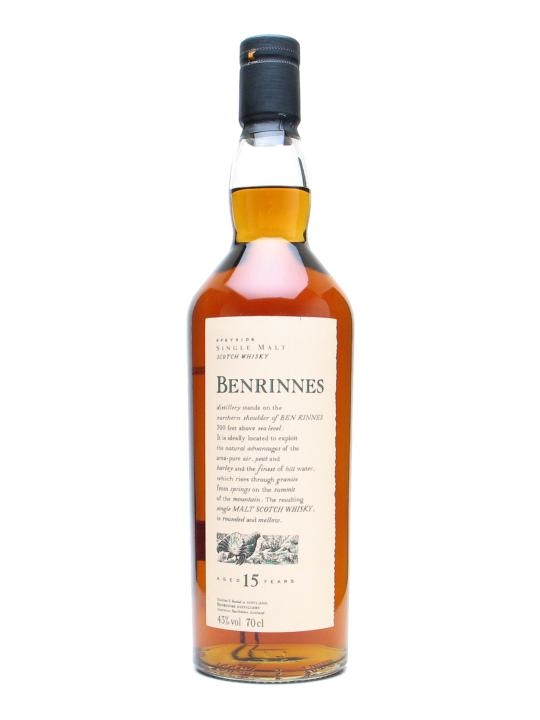 OUR BEST PRICE
from The Whisky Exchange
£48.25 -
Get Bottle
4.1 out of 5 (32 reviews)
Part of the easily recognisable Flora & Fauna series from Diageo, this 15-year-old Speyside single malt is marketed as a 'partially triple-distilled' as they worked out that their low wine cycling sytem works out at nearly 2.7 complete distillations. Catchy marketing eh! Regardless it's an understated gem, the nose is floral and doughy with toffee notes, the palate is sweet, rounded with just a hint of peat and big malt buscuit flavours. An incredibly easy drinking whisky that disappears all to fast, happily as part of the F&F range it's not likely to run out anytime soon.
| Network | Price | Get Deal |
| --- | --- | --- |
| Amazon | £51.75 | |
| Master of Malt | £52.25 | |
| The Whisky Exchange | £48.25 | |
| The Drink Shop | £53.99 | |
Benrinnes 15 Year Old Flora & Fauna is a 15 year old single malt whisky from the Benrinnes whisky distillery (located in the Speyside region). Rated an average of 4.1 out of 5 by 32 reviewers and available from The Whisky Exchange for only £48.25, falling slightly short of liquid gold but this in a solid everyday single malt whisky.
Interested in getting the best value Whisky deals in your box every week, sign up to our newsletter