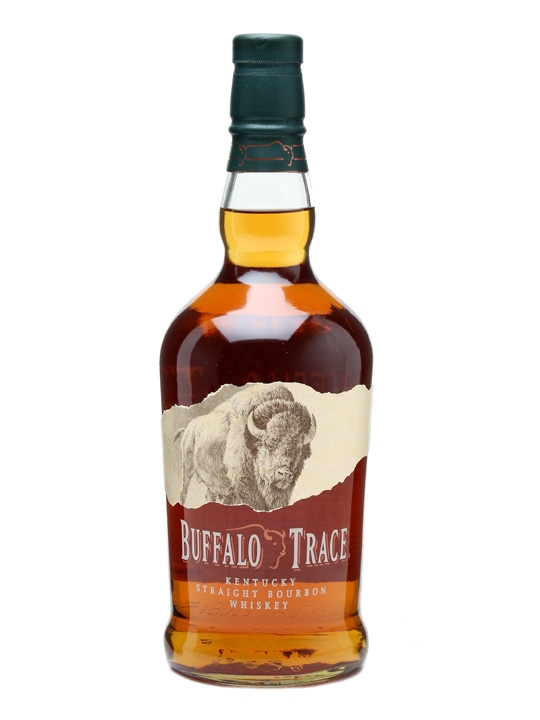 OUR BEST PRICE
from Amazon
£19 -
Get Bottle
4.5 out of 5 (521 reviews)
Bourbon is often looked down on by single malt fans as a cheap mass produced and standardised drink. While there may be some truth to the standardisation a decent Bourbon will develop far faster than the average single malt. For two reasons, firstly by law a Bourbon has to be aged in 100% virgin American oak, this single use approach means it will rapidly impart vanilla, toffee and caramel flavours, Scotch in contrast may use a barrel numerous times, like a teabag the second use of a barrel imparts less of these early flavours. Secondly the maturation cycle is determined by the rise and fall of temperature, as the wood heats it expands sucking in the whiskey, as it cools it expells the spirit. As American temperatures tend to fluctuate faster this leads to accelerated maturation. If you're looking for subtle flavours and the variety of Scotch you wont find it but you'll be amased at how quickly a virgin barrel can impart flavour on a Bourbon. The're generally a lot cheaper and make excellent sipping whiskies, especially if you have a sweet tooth.
| Network | Price | Get Deal |
| --- | --- | --- |
| Amazon | £19.0 | |
| Master of Malt | £23.99 | |
| The Whisky Exchange | £23.95 | |
At the outset of the Buffalo Trace Kentucky Straight Bourbon beguiled by its bronze color, light gold shimmer can guess from what flavors unfold in the mouth. The wonderful smell of vanilla makes then finally wanting more. 93.5 / 100 pts. Jim Murray's Whiskey Bible 2011 Buffalo Trace Bourbon Kentucky Straight Bourbon Whiskey is a bourbon whiskey from the Buffalo Trace whisky distillery. Rated an average of 4.5 out of 5 by 521 reviewers and available from Amazon for only £19.0, falling slightly short of liquid gold but this in a solid everyday bourbon whiskey.
Interested in getting the best value Whisky deals in your box every week, sign up to our newsletter